ancient medicine for modern health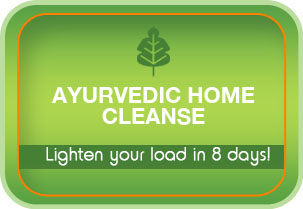 If you suffer from low energy, achey joints, excess weight, or poor immunity, turn things around now!
Bodhimed's easy 8-day Ayurvedic Cleanse will effectively detox, restore and revitalize.
Experience greater vitality and clarity with this home version of a 2000 year old clinical cleanse.
Click here to learn more and get started right away!
A staple item in almost every mother's bag is anti-bacterial hand sanitizer. Of course every parent has their child's best interest at heart. That's why we try to keep the germs at bay in the first place. But new studies are showing that there are serious harmful consequences of triclosan, the primary ingredient in anti-bacterial soap. Luckily an effective natural alternative called CleanWell is available that contains essential oil from thyme as the primary active ingredient.

CleanWell is a product that sets itself apart as a safe and effective germ killer. The patented blend of essential oils in CleanWell kills 99.99% of all germs including salmonella, e.coli and staph. Their products include a hand sanitizer spray, a foaming hand wash in four incredible natural scents, and handy sanitizing wipes. These products are 100% natural and biodegradable, and are hypoallergenic for the whole family and the environment. You can carry it in your bag and keep a different colored bottle by each sink in the house.

Our culture is extremely germ-a-phobic. Approximately 76% of all liquid soaps and 26% of bar soaps, as well as an increasing number of toothpastes, cosmetics, plastics, and clothing, contain the anti-microbial agent triclosan. While more research is needed to educate the public about the dangers of this chemical, some facts about triclosan are becoming well-known. Firstly, when triclosan combines with chlorine, which is present in most municipal water supplies, a carcinogenic dioxin is produced that is harmful to people and the environment. Water treatment plants do not remove triclosan from the water supply, so then farmland is irrigated with triclosan-tainted water and the chemical ends up on agricultural crops. Triclosan has even been found in river beds, and is toxic to several types of algae that form the basis for the food chain. In addition, recent studies show that elevated levels of triclosan in the blood can lead to nervous system depression and impaired thyroid function. Some countries in Europe, such as Denmark and Finland, have even banned or severely restricted the use of triclosan.

A further problem with the overuse of anti-bacterial soap is that there are now strains of bacteria that are resistant to the anti-microbial agents just as there are bacteria that are resistant to antibiotic medication. This means that the bacteria are getting stronger and more difficult to eradicate. We certainly don't want to be strengthening the opposition team, but in effect that is what is happening.

On brainblogger.com, Sajid Surve, D.O. writes that "The final problem with triclosan extends to the larger problem of excessive cleanliness. A British doctor by the name of David Strachan has proposed something called the "hygiene hypothesis," which states that problems like allergies, asthma, hayfever, and eczema are caused by an immature immune system. Our immune system works by sampling the environment for small doses of potentially harmful substances such as bacteria, fungi, viruses, etc. and using that information to produce antibodies for defense against the offending agent. The hygiene hypothesis states that by removing all exposure to potential pathogens through sanitation, our immune systems have no way to practice and instead decide to turn on our own bodies. When that stimulus finally does arrive, the body is so immature and unrehearsed that it overreacts and produces a huge response to tiny inputs. The hygiene hypothesis is starting to be observed in nature, as recent studies have shown that children raised on farms or with pets are far less likely to develop asthma, allergies, etc. than their deprived counterparts."

It is an incredible sign of the times that there is almost always a natural alternative to a harmful chemical, whether it's in our laundry soap, our medicine, or our food. To truly respect our children and the environment, we need to consciously choose these friendlier options and tell everyone about them. Companies like CleanWell make it a priority to bring benefit to people while doing no harm in the process. Unfortunately the same can't be said about the ubiquitous hand sanitizers most people have gotten used to.